If you have been troubled by the daily power cuts, then here we are telling you about a portable device that will give relief to you and your family during power cuts. The special thing is that this device is quite small in size, so that it can be carried anywhere. The company says that this is a mobile power station, so that you can run basic home appliances from home anytime, anywhere including laptop-smartphone.
We are talking Bluetti EB70 of 200 Watts power station. After the success of the Blueetti EP500 / Pro, the company introduced it as a smaller power station to provide usability similar to its flagship model. Weighing 9.7 kg, the Blueetti EB70 supports a power output of 200 Watts. It has a LiFePO4 battery, the specialty of which is that the battery capacity remains 80% even after 2500 charging cycles. The special thing is that it can be recharged from multiple sources like 12V car charge and solar panels. It is an eco-friendly solar generator as it provides a 200W foldable portable solar panel. After charging, this device can power electronic devices up to a maximum of 1000 W.

Design of the Blueetti EB70 Power Station
The Bluetti EB70 is a compact power station that is protected with fire proof ABS + PC material. It comes in three different colors like Steel Gray, Green and Camine.
It has a dedicated handle, so that it can be carried anywhere, it looks like an old-fashioned radio. It has 4 AC outlets, which provide 700W power output. The company says that this is a great power device for camping and traveling.
What will the Blueetti EB70 do?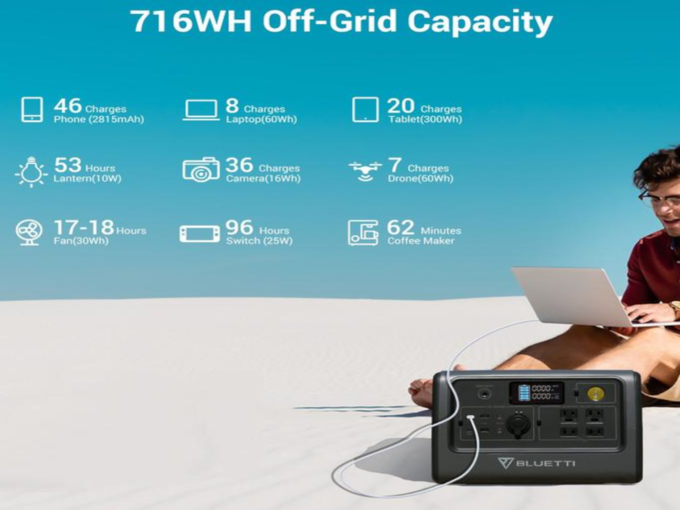 There are several AC/DC outlets on the front panel of the power station. It can run all the basic AC appliances in your home. The company says that it can power smartphones, tablets, laptops, drones, lightings, TVs, medical equipment, electric cookers, mini space heaters and small fridges.
It has 100W USB-C ports for charging laptops and other smart accessories. That is, now there is no need to keep separate chargers for different devices while camping and traveling.
It has multiple ports like USB-A, USB-C PD (2 x 100 W each), Wireless Qi, 12V – 10A (regulated) & 230 volt AC. The good thing is that it also gets the facility of 15W wireless charging.
It gets a touch-screen display on the front, so you can navigate through menus, as well as view input-output in volts and watts. The charging status of the battery is also visible on the display itself.
The company claims that it can be used as an emergency supply at home. Also, it can be used to power many devices during outings or outdoor adventures.
The Blueetti EB70 battery can be recharged in several ways

The portable power station Bluetti EB70 can be charged in four different ways. It takes around 5-5.5 hours to get fully charged from solar panels, 4-4.5 hours from wall outlets, 7-7.5 hours from car outlets and 4-4.5 hours to get fully charged from generators.
Bluetti EB70 Price
The actual price of Bluetti EB70 Power Storage is $ 499 (about Rs 37 thousand).
Bluetti EB70: Technical Specifications Details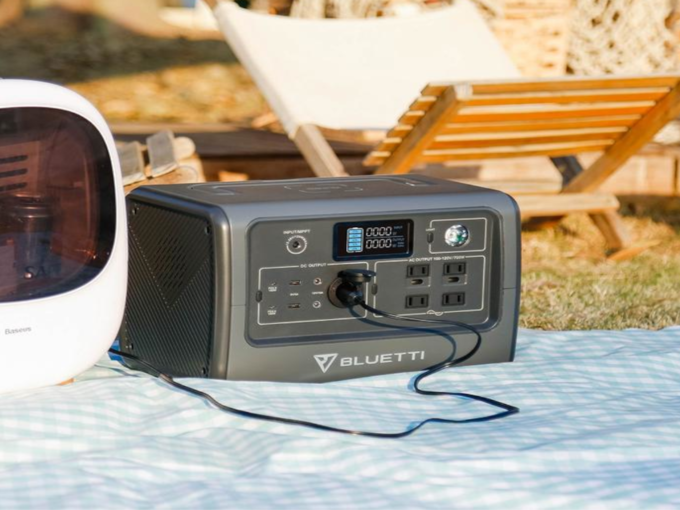 Typical Capacity: 716Wh
Output Power: 700W
wireless charging: Yes, 15W
USB-C Output: 100W x2(PD3.0)
Peak Power: 1400W
Cell Chemistry: LiFePO4, Up to 2500+ Charge Cycles
Dimensions: 12.6 x 8.5 x 8.7 inch
weight: 9.7kg
Maximum Input Power: 200W
Solar Input: 12-28V, up to 200W
car charger: Supported
Warranty: 24 months
For more information this Link click on