Moscow: The people of Russia are the President for the attack on Ukraine Vladimir Putin ,Vladimir Putin) against. There have been tremendous protests in many big cities including Moscow, the capital of Russia. Now a Russian businessman Alex Konyakhin has announced a reward of 1 million dollars on the head of Vladimir Putin.Bounty on Putin's head) has done. The reward amount in Indian Rupees will be around Rs 7.5 crore. Konyakhin has shared a poster on his Facebook and LinkedIn with a picture of Putin, on which 'Wanted: Dead or Alive. For Mass Murder' is written. Alex said in the post that he was willing to pay $1 million for Putin's arrest as a war criminal under international law.

Facebook removed Konyakhin's post
This post of Konyakhin has been removed by Facebook considering it a violation of the rules. After which the Russian businessman clarified that I was not asking people to kill Putin. My aim is to bring them to justice. Konyakhin made this post almost a week after Russia's invasion of Ukraine. It is being claimed that more than 2000 civilians of Ukraine have been killed in this war. At the same time, the Russian Defense Ministry said a day earlier that 498 of its soldiers have been martyred during special operations in Ukraine. In contrast, Ukraine has claimed that it has killed some 9,000 soldiers of the Russian army.

I promise to pay $1,000,000 to the officer(s) who, in the performance of their constitutional duty, arrest Putin as a war criminal under Russian and international law.

alex konyakhin

Konyakhin is accused of embezzlement of $8 million
55-year-old Alex Konyakhin is a wealthy businessman. In 1992, he served in a Russian delegation to the US led by the then President of Russia, Boris Yeltsin. He later worked on behalf of the Russian presidential office of the Kremlin in a high position at the Russian Exchange Bank. However, he resigned after being accused of embezzlement of $8 million from a Russian exchange bank and fled to the US in 2007.

India Russia Relations: Supply of S-400 missile system and military spare parts will continue… Russia gives great assurance to India
Said – Putin got his opponents killed
He has claimed that Putin is not the Russian president since he came to power as a result of a special campaign to blow up apartment buildings in Russia. He then violated the constitution by abolishing free elections and killing his opponents. , As an ethnic Russian and a Russian citizen, I consider it my moral duty for Russia's liberation from Nazism. He has also announced continued aid to Ukraine.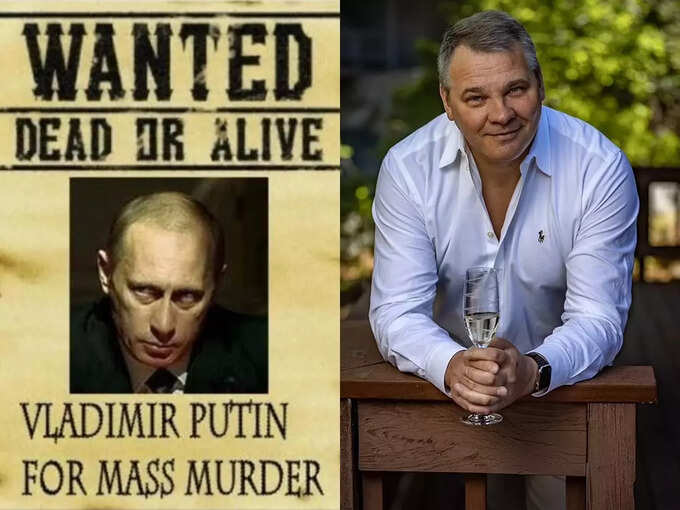 Russian businessman announces reward on Putin's head