After months of speculation, the rumors claiming that Athiya Shetty and KL Rahul are going to tie the knot soon have finally turned out to be true. These sweet love birds made each other partners by holding hands on 23 January 2023 in the presence of their near and dear ones. Both the bride and groom looked stunning on this special occasion.

Especially talking about Sunil Shetty's Laadli, like always, this time also the elegance was unmissable from her look. Athiya wearing a lehenga designed by Anamika Khanna, be it bridal makeup or hair style, everything looked perfect. If it is said that this look gave competition to the bridal look of even Alia Bhatt, then it would probably not be wrong. (All photos: Yogen Shah and Instagram @klrahul)
Special touch given to the hair like this
Whatever pictures you see of Athiya, in most of them she is seen with open hair only. Why shouldn't it be so? Her thick black locks are so attractive that anyone would want to have them and flaunt them. However, for the wedding day, she opted for a different style from her usual choices.
Athiya's hair was parted in the middle and tied in a romantic low bun. This choice seemed to highlight her well defined features. The dupatta was neatly set on her bun, which surely gave a dreamy feel to the overall look.
Would this bun look good on me?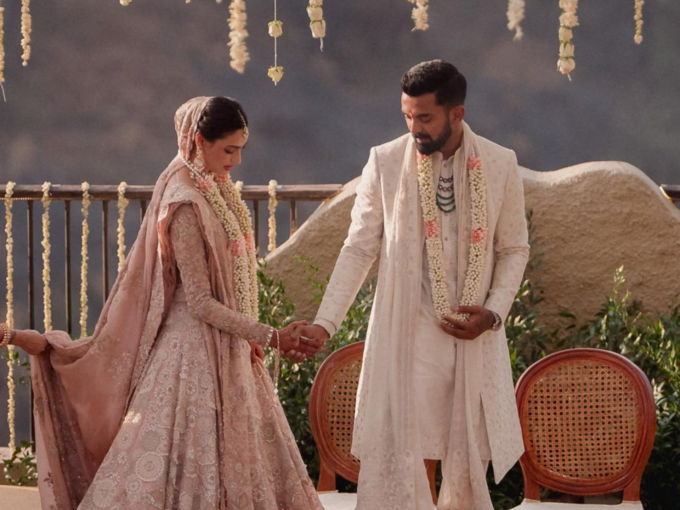 If you are going to be a bride or are looking for hairstyles to go to someone else's wedding, then this hair-do of Athiya can be the perfect choice for you. However, it will not suit every face.
These types of buns suit more on square shaped faces. Athiya's face is also of this shape. Girls with such features should keep their bun slightly below or above the jaw-line. It balances the face well, while also giving it a soft touch.
Not too much, but makeup kept like this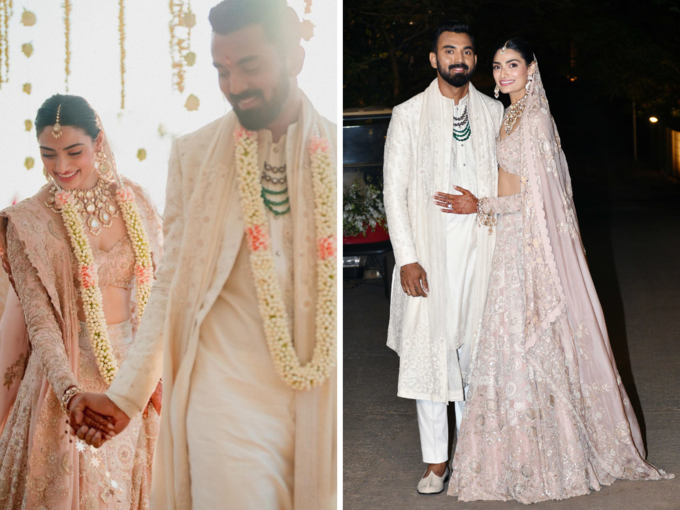 Not only did Athiya Shetty sideline the traditional red lehenga choice, but she also did not go for the heavy makeup look that typical brides wear. This bride had selected a very natural look for herself, in which blushed cheeks were matched with nude tone base.
Athiya's dark eyes were highlighted with eyeliner, kajal and mascara. Her makeup was giving a healthy and glowing look to the face with light gloss. Even the lipstick was kept in a pink shade to match the lehenga in contrast to the traditional dark shade, which made Athiya's smile with pearl white teeth more attractive.
These things have to be kept in mind in this type of makeup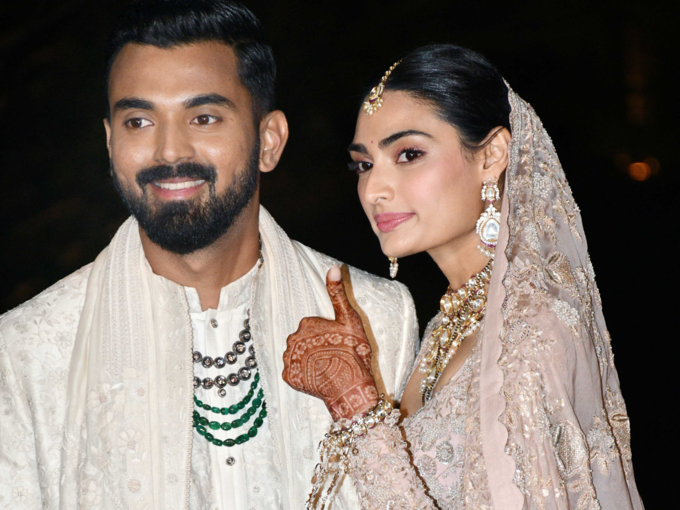 For makeup to look natural, the face should be well moisturized, so that from foundation to concealer, it blends easily with the skin and no patches are visible.
It is important to choose the right shade of concealer. Keep in mind that it is used to hide the darker parts of the face. In this case, it is of a slightly lighter shade than the skin tone. But this mismatch should not be so much that that part starts looking white.
Similarly, the selection of foundation to powder should also be done keeping in mind the skin tone.
If the lipstick is too matte or glossy, then the natural look does not come. In this case, choose a lipstick whose texture is creamy. It will keep the lips soft while giving a smooth natural look.
Avoid too much mascara and eyeliner. Otherwise, it will not give that natural look to the face, which you expect.
In what ways did Athiya look prettier than Alia?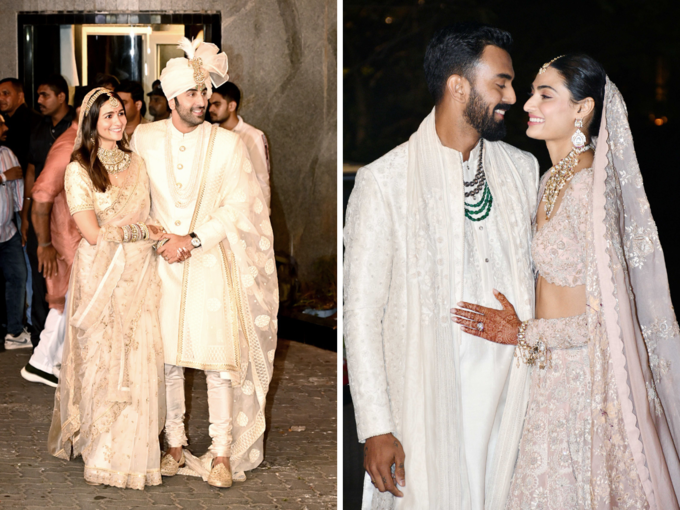 There is no doubt that Alia Bhatt made for a sweet bride. The actress's bridal look wearing Sabyasachi's sari was praised everywhere. However, it was also very simple for a wedding day.
On the other hand, Athiya's look was meant for simplicity, but the bridal feel could be easily taken in it. It was a look that on one hand gave her an opportunity to flaunt her natural beauty, while on the other hand gave a mature and fresh look to her features.
read this also: Aishwarya Rai's daughter stunned at Anant Ambani's engagement
Love birds Athiya-KL Rahul are married